Ancient Egyptian Spells Not to Try at Home
Edited by Aleister Blackwell. Ladies and Gentlemen, please alight here. You have reached your final stop, for here, is...
A compelling and unique RAPID-FIND REFERENCE and ONE STOP SHOP to Ancient Egyptian Spells! Bam! Allakazam! and the Genie Bottle! How did they do it?
This excellent work serves as both a fine introduction as well as an advanced text for the master, combining two reprints from the finest Egyptological authors, with a choice and multiplicity of spells in both white and dark magic.
Originally published as two separate books: "Egyptian Magic" and "The Magical Leiden Papyrus", this work, combines the best of both. It turns those references into searchable texts, in a five hundred page book of arcane knowledge and wisdom! Firstly it comes with an additional valuable Introduction, which explains the fundumentals of Egyptian magic. Once that is out of the way, in order to get you started, there is a SPELL index---unknown in the original works! Both the valuable introduction, which will place you in the paradigm of an Egyptian magician's thinking, as well as the spell index, can only be found here.
If you are serious about learning how the ancient Egyptians cast their magic, then this is an essential addition to your library!

Features:

A representation of the accumulation of thousands of years years spell tradition
Evidence of a lost spell used by Moses to part the waters!
Learn how the Egyptians could destroy enemy armies with a sweep of Pharoah's arm!
How to make the genie answer truthfully!
Quite possibly, the love potions used by Cleopatra upon Julius Caesar.
ISBN: 978-0-9874208-1-7, 500 pp, Available in softcover. For intellectual use only.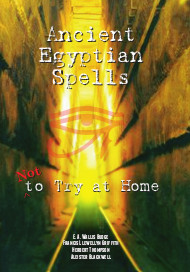 Want this book?
Buy it now.
Get it at amazon.com » Get it at amazon.co.uk » Trade customers/resellers
Order bulk copies of this book via CreateSpace Direct.